Shane's Top 10 Helpful Kitchen Design Tips
By Shane Bloomfield
Bill & Ben Kitchens, Townsville
Kitchen Design Tip 1
If possible always build overhead cupboards that go all the way to the ceiling.
Reasons:
Never have to clean on top of them anymore
Extra storage space
Makes kitchen look BIGGER, not smaller as many think
Kitchen Design Tip 2
Incorporate a free area away from the sink, hotplate, etc that is big enough for your food preparation.
Notes:
If possible – not facing a wall!
Island benches are great for this as you can watch TV/Chat and do food prep at same time
Kitchen Design Tip 3
Have more drawers than cupboards with shelves!
Notes:
It is easier to access the back of a drawer when open than reaching back under a shelf.
(Shane Says): "If had to pick just one tip to be the most useful – this would be the one."
Kitchen Design Tip 4
Leave a fridge opening big enough for a large 2 door fridge or pigeon pair.
Notes:
You never know when your family might get bigger.
If you don't know what the measurements of these fridges are – your cabinetmaker will know.
If you have not purchased your fridge yet – a large space will give you more choices.
Kitchen Design Tip 5
Check what heights your appliances are! Obviously your kitchen design needs to have sufficient space for them. (Some appliances need to have extra space around them to function well – fridges in particular.)
Notes:
For Example – your microwave should be no higher than 1300mm off the floor (for people of average height)
Kitchen Design Tip 6
When choosing a feature colour for your kitchen – use symmetry for placement! What this means is that humans generally consider things that are balanced to be more "beautiful". So make sure any feature wall you have is even and balanced as you look at your kitchen.
Notes:
Striped colours and dark colours can date quickly.
Remember – Never forget "resale value" – not everyone will share your taste…
Kitchen Design Tip 7
Be careful choosing appliances as this can affect your choice of splashback.
Notes:
For example – for gas hotplates you must have a non-flammable splashback. This is "LAW". E.g. you can use Glass, tiles, stainless steel.
Kitchen Design Tip 8
Always put in a dishwasher opening.
Notes:
Remember "resale". Most families must have a dishwasher now.
If you don't want an opening, it can be filled with what we call a removable dishwasher cupboard!
Kitchen Design Tip 9
Keep all overhead cupboards at the same height above the bench top.
Notes:
For example, your rangehood should be at the same height as the cupboards next to it. [It is better for symmetry!]
Kitchen Design Tip 10
If possible, plumb in a tap for the fridge!
Notes:
Most 2 Door fridges now need plumbed water. Have the plumbing installed at the same time as your new kitchen to save extra work.
Kitchen Design Tip 11
I know I said there were 10 tips, but the best design tip is probably to "Call me!" I've been doing this for 30 years and would love to share my knowledge with you. You can see photos and examples of our work at www.thecabinetmen.com/gallery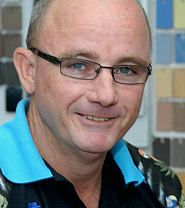 Phone Shane Bloomfield – 07 47 252 797
www.thecabinetmen.com
Townsville