By Bill & Ben The Cabinet Men
Understanding the order of doing things to get a great kitchen can make a big difference to how much enjoyment or stress you get from the process.
Master kitchen builder Shane Bloomfield shares a simple method that will work for most people.
Just Four Steps Needed
Step 1. Choose your appliances first. But don't buy them! Your choice of appliances WILL change the design of your kitchen. Eg. A monster 2 door fridge or a 6 burner gas oven. It is better to actually purchase your appliances after you have a design that you are happy with. Sometimes while working on the design it becomes clear that very specific types of appliances are called for. For example – Left or right opening fridges.
Step 2. Create a layout of design that will fit your space (and your appliances). This sounds easy – but because it is not something you do every week – it can be a bit of a nightmare. If you would like some help, I am happy to help you get a super layout design. Kitchens are my passion, and after 18 years I can help you get a great layout quickly and easily.
You can also use basic templates that you can get from the internet or Bunnings that will give you some ideas to get started.
In your design it is important to mentally picture how it will work. Some things just do not work – and it is only when someone who can mentally see what the layout means points out that! For example, you may not be able to open the fridge because of the dishwasher door. In one case, a client designed their own kitchen without a sink – because it was not on their template.
When you are talking with me about your kitchen – I will ask lots of questions – because this helps iron out all the wrinkles in the design. The other thing that happens is that people say to me "Oh – you can do that?" And "Oh – I never thought of that. That's a great idea."
Step 3. Look at the choices of materials available – eg. Granite tops, Pac doors, etc. This follows the layout. There are tons of different materials, with different looks (and costs) to consider. At this stage – just choose the looks and finish you want. If the amount in step 4 is too high – the process is to review the material selections. As this is a room where you are going be spending a large part of your home life – we may as well get it as close as possible to perfect for you.
Step 4. "Lock it in, Eddie!" Once you reach this step – then it is possible to get a realistic price for your new kitchen. Your typical proposal from Bill & Ben has taken 5 hours (and over 30 years experience from constant practice!).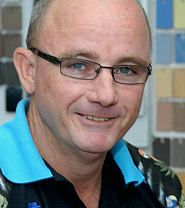 Phone Shane Bloomfield – 07 47 252 797
www.thecabinetmen.com
Townsville