How To Make Your Kitchen Doors, Doors and Panels Look Great!
By Shane Bloomfield
When you think about it, your kitchen doors, drawer and panels get more exposure than your bench tops.
By this I mean your doors and drawers are never covered up by clutter, kettles or toasters. In most cases your doors go from the floor to your ceiling and colour is probably more important than your bench tops.
So, what are the choices? I've already covered colours in an earlier article, so let's talk about styles.
Laminated Doors
Laminated doors have been around forever but new colours, textures and even shiny laminates are now available. Improvements are being made constantly with this type of door all the time. You now have choices for different thickness for the edge strips ie. 04mm, 1mm or my favourite 2mm. The thicker the edge the more durable it becomes.
I often prefer the 2mm edge strips because it has a rounder edge and is more durable. Ie. it resists damage better than the narrower strips.
Solid Timber
Solid timber doors are always fashionable, that is they never date. The natural look and feel of timber is unique and is often used as a selling point with real estate agents when describing a house. A reasonable amount of maintenance is required to keep this looking as good as when it was first built.
An example of maintenance for timber is to apply furniture wax at least once per year. This helps prevent the lacquer from drying out – if it dries out it will crack and look bad! You can use bees wax type products or another good one is Mirowax.
2 Pac Doors
Let me start by describing what this product is. 2 Pac stands for "2 Parts"- it is paint with a catalyst added to make it very hard. They put this type of paint on your car. So, if you want, you can paint your kitchen doors the same as your car! This type of product is probably my favourite. 2 Pac is a very hard surface, and is easy to clean. Your colour choices are endless and in most cases – because it's very shiny – it will look new even after many years.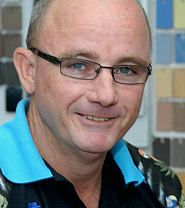 Phone Shane Bloomfield – 07 47 252 797
www.thecabinetmen.com
Townsville