How To Get The Right Colours For Your New Kitchen…
By Shane Bloomfield
So – I've been asked to write more articles for my web site. This is because of the positive feed back (Thanks!) from my clients about my first articles which were:
"The 10 Things You Should Know Before You Build a Kitchen",
"Shane's Top 10 Design Tips"
"The Four Simple Steps"
"The 10 Things You Should Know Before You Build a Kitchen" was about educating clients on what to expect from there cabinet maker.
"Top 10 Design Tips" was written to make you llook outside the square a little with your kitchen designs.
"4 Simple Steps" helped to put things in a formula that works – so that your new kitchen works!
So what's left? – Colours…
What colour do I want?
What's new on the market?
Do I want to stay with the same colours that I already have? That's playing it safe!
Do I want to change? (Will I like it?)
How will I know it will look OK? (Too late once it's made!)
What's trendy?
And there is probably more! I've heard them all.
Well there is help out there, and you not going to do this alone, are you?
Choosing colours can be very daunting, but it can be made easy! I've found it's easier to find out what you don't like, and then plan around with what's left. We can also show you larger samples from our off cut rack. That means someone else liked it, hey!
Now, I've been building kitchens for 30 years now and yes, feeling it too! So, I've seen trends come and go, so that gives me the right to an opinion. So you certainly won't be left to do your colours on your own.
Experience has taught us that everyone has different taste, that's why there are so many sample colours to choose from.
If you're still not convinced about what colours you've chosen – you can hire the talents of an Interior Decorator/Colour Consultant; these people are brilliant with colours. They can see things you and I can't. For a small fee they will help you choose colours for your kitchen or even your whole house!
Now that you've selected colours that make your kitchen beautiful, let's see if they are "practical".
Some colours scratch more easily than others, so that's where I step back in. I'll prove to you how your colours will go under normal use. No point selecting something that is hard to look after – nobody needs high maintenance? Right?
The main thing is to not let all the different aspects of the job overwhelm you. Take one step at a time, and to get all the help you can from people who can help.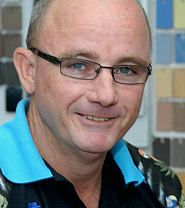 Phone Shane Bloomfield – 07 47 252 797
www.thecabinetmen.com
Townsville